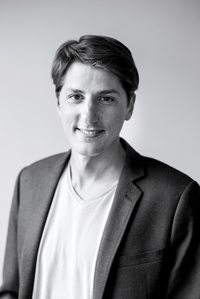 Atelier INVIT: architecture made in Paris
Architecte  DPLG depuis 2007, Lucien Puech a collaboré avec des agences de renommée internationale, telles que Miralles & Tagliabue à Barcelone, Renzo Piano Building Workshop et Kengo Kuma Associates à Paris.
Il réalise des installations éphémères remarquées, en 2013, au Festival des Architectures Vives de Montpellier et en 2014, dans le cadre du Festival International des Jardins de Chaumont-sur-Loire avec un projet intitulé Les fleurs maudites. Plusieurs de ses propositions ont été primées à l'occasion de concours d'idées, notamment au Japon et lors de la biennale d'architecture Agora de Bordeaux.
En 2017, il crée l'Atelier INVIT, une société d'architecture dont la production est orientée par les commandes de maîtres d'ouvrages privés et, en parallèle, par des collaborations avec d'autres agences, sur des projets publics complexes.
L'objet social de l'Atelier INVIT est de construire des lieux de tous les possibles, de composer des atmosphères propices à l'épanouissement d'un hédonisme généreux et coloré.
___________________________________________________________________________
INVIT Workshop is a young architectural firm based in Paris, France.
Graduated architect since 2007, Lucien Puech collaborates with architectural world-renowned firms as Miralles & Tagliabue in Barcelona, RPBW and Kengo Kuma Associates in Paris. During 3 years, as the architect in charge of the Athens Opera hall studies, he had the chance to come into regular contact with Renzo Piano and learn a lot from him. He taught him that even highly complex projects, expressed with simple words and enthusiastic sketches, always win over public. In parallel, he develops his own practice toward private clients and as part of idea competitions. His first projects are an experimental mobile exhibition pavilion for the World of Bamboo and a loft reconversion in Paris. In 2013, the Lively Architectures Festival in Montpellier, France, is the occasion for him to realize a first ephemeral stenography which received the jury special price.
Inspired by travel memories, INVIT Workshop aims to construct charming objects to live in, places of freedom, frame of a generous and colorful hedonism.