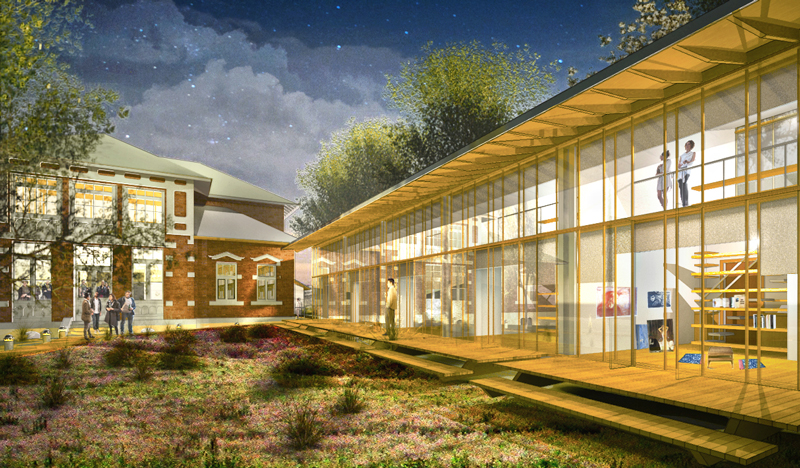 HAKODATE'S OLD RUSSIAN CONSULATE
INTERNATIONAL ARTISTS RESIDENCY AS A PUBLIC CULTURAL FOUNDATION FOR HAKODATE
PROGRAMME:
LIEU:
DATE:
MOA:
PHASE:
BUDJET:
SURFACE:
Reconversion d'un patrimoine historique
Hakodate, Hokkaido, Japon
Aout 2014
MONUZUKURI HAKODATE FORUM
Appel à idée - Lauréat 1er prix
nc
1380 m2
L'ancien bâtiment du consulat de Russie bénéficie d'une situation en belvédère sur la baie d' Hakodate.
Le projet propose sa transformation en résidence internationale pour artistes associé à des espaces d'exposition et de production. Une petite boutique signale sur la rue le caractère public du lieu. Dans l'ancien bâtiment, un workshop est aménagé dans le sous-sol, une galerie au rez-de-chaussée et les salles de pratique à l'étage. Une aile de studios pour résidents temporaire s'adosse au mur de soutènement en limite parcellaire, le paysage et le jardin se reflètent dans sa façade en créant un espace d'une grande clarté favorable à la concentration. Deux bains «ofuro» se nichent dans les arbres. Un cheminement mène les visiteurs à la terrasse d'une cafétéria dominant la baie.
Cette proposition a reçue le 1er prix de l'appel à idées. Elle a été exposé à la bibliothèque de Hakodate au Japon en aout 2014.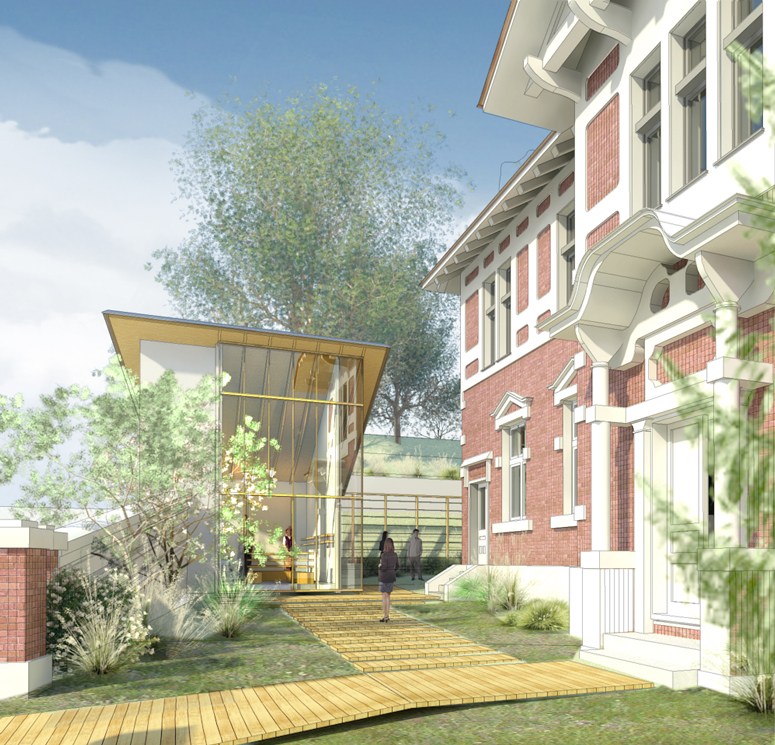 The old Russian consulate is a charming historical building located on the Mont Hakodate slopes. The project aims to enhance its potentials as a first class destination in the city. Surrounded by temples and at the hedge of the Mont's forest, its garden would be a generous retreat and meeting place for artists, inspired by the stupendous view toward the city bay. On the model of the Villa Medicis in Rome, the Consulate will host an International Artist Residency in Hakodate. Artists will be hosted for short to midterm stay, create and expose their work into the new exhibitions rooms. Exchange between international and local designers will be organized into workshops with top end equipments.
This new Public Cultural Foundation will also be a place for live performances, receptions and seminaries on art. Invited artists will hold master classes open to Hakodate's citizens and students. The garden will be a main touristic venue with its panoramic café. A small shop at the Foundation entrance will be a signal in the street and a place to buy some drawings and souvenirs.
The intervention on the site, with the destruction of the old extension, permits to give back to the consulate building its four facades and its volumetric independency.
The interior renovation dismantles few partition walls in order to create larger rooms for the exhibition. At the first floor, the performance room oriented toward the garden benefits of a higher ceiling following the roof shaping. Architectural moldings are preserved but hidden behind wood-framed paper partitions with pictures rails. One stair is created in the lobby leading to workshops in the basement which benefit of new skylights.
A sharp glass facade, reflecting the bay landscape and the Consulate's garden, creates a strong architectural gesture. The private artist residency program is dispatched on a strip along the south retaining wall. The five artists' studios, made of solid wood panels, are composed of a working room with a terrace opening through the garden and a living room on tatami at mezzanine oriented toward the south. Two small baths for artist concentration and well-being are embedded into the garden's topography. Workshops' skylights and the street shop complete the plan. A café conceived as a translucent winter garden offers a generous deck for events above the Hakodate famous scenery.
MONOZUKURI HAKODATE FORUM web site
This proposal received the first prize and had been exposed at the Hakodate Central Library in august 2014.